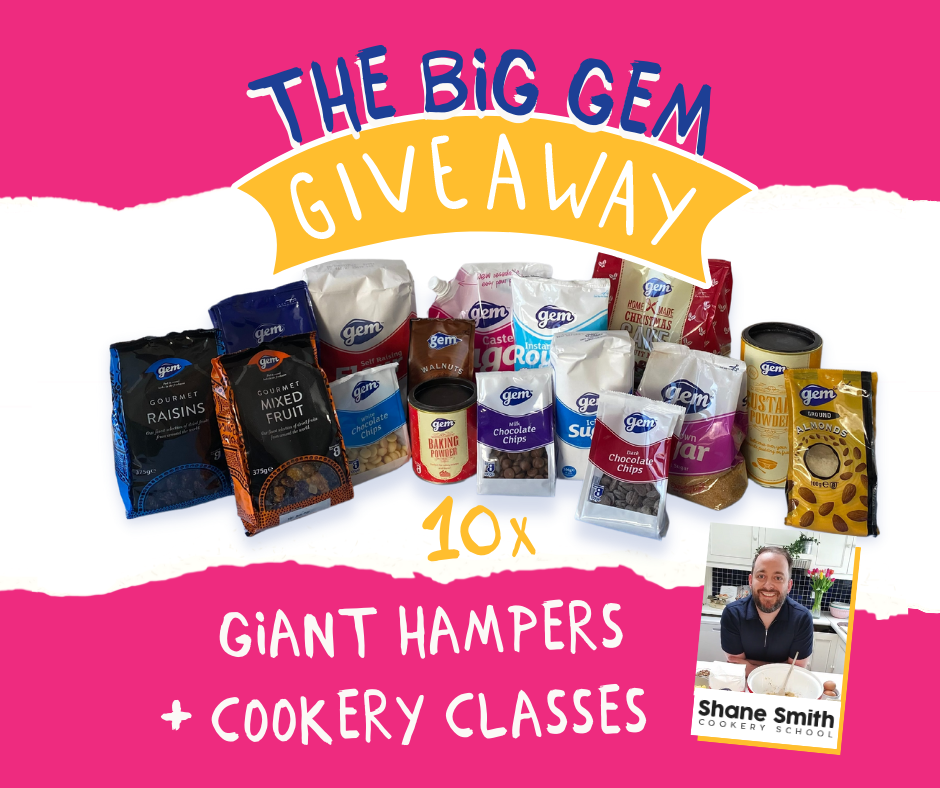 THE COMPETITION IS NOW CLOSED! CONGRATS TO ALL OUR WINNERS AND THANKS TO ALL WHO HAVE ENTERED THE GIVEAWAY. NEXT IS SOON TO BE LAUNCHED. STAY TUNED!
THE 10 WINNERS ARE:
Mary Cashman – Baxter Clair – Rita Broderick – Pauline Leahy – Anthony Pickford – Eileen Keating – Sabrina Coughlan – Marie Gunning – Kay Whitty – Dara Hayes
We will be in touch with all the winners by email over the coming days.

To celebrate the launch of our new website, we're giving you a chance to WIN an incredible GEM HAMPER WITH A TICKET to SHANE SMITH'S LIVE COOKERY CLASSES! This is the perfect prize just before the big Baking Season!
How to enter
1. Join our Baking Club before midnight on Friday, 4th of November by clicking HERE! It's FREE to join, and only takes a few seconds!
2. To let us know you joined, comment 'Joined' under our 'The Big Gem Giveaway' competition post on our Socials, Instagram or Facebook!
10 lucky winners from our Baking Club members will be chosen at random and announced on the evening of November 5th.
Please share this giveaway with your friends and family.
BEST OF LUCK!
Terms & Condition
Please note, we reserve the right to change the content of the illustrated hamper based on our availabilities, but we will make sure to include 15 Gem baking/cooking ingredients and a Gem apron for each winner.
Each winner is entitled to one class with Shane, either live or pre-recorded. Winners must email Shane directly to book their space on a live class or alternatively receive the link for the pre-recorded classes (info@chefshanesmith.ie). No cash alternative for cookery classes will be offered. You can reschedule your live class no less than 48hrs before its start time. If for whatever reason you cannot attend you will receive a link to rewatch & bake at your own pace. Please note, these are online/virtual classes and not in-person classes & ingredients for the chosen class are not provided. You can see a full list of available classes on Shane's website www.chefshanesmith.ie.
Please be aware of any fake accounts pretending to be us and do not share your personal details with them.